UPVC Double Glazing Trojan Sparta 92PZ Sprung Patio Door Handle Gold
Product Description
Trojan Sparta 2 Reversible Sprung Door Handle
The Sparta door handle has been manufactured to an extremely high standard which offers outstanding product performance and value. This Sprung lever/lever handle set has been designed to be fully reversible to fit both left or right hung doors. The return spring cassettes are fitted over the spindle hole, ensuring that the handle is held at 90° with no sag.
The Trojan Sparta Door handle set is designed to replace handles with 92mm cylinder centres (distance from centre of handle spindle to centre of barrel) and distance between screw hole fixings of 122mm. The Sprung lever/lever handle set is for use with lift lever operated multipoint locking mechanisms with a 92mm PZ centre
Specifications
92PZ (92mm critical dimension) from centre of handle spindle to centre of barrel

Supplied as a pair complete with spindle and screws

Fully Sprung with 2 x spring cassettes supplied

Spindle Size: 8mm
Backplate width: 35mm
Backplate depth: 12mm
Backplate length: 212mm or 245mm

Fully reversible to fit both left or right hung doors
There are 2 different sizes of this handle. One has a shorter backplate and a shorter distance between the screw holes. The other has a longer backplate.
Please take a look at the diagrams to see which handle is going to fit your door.
Long Fixing Centres 210mm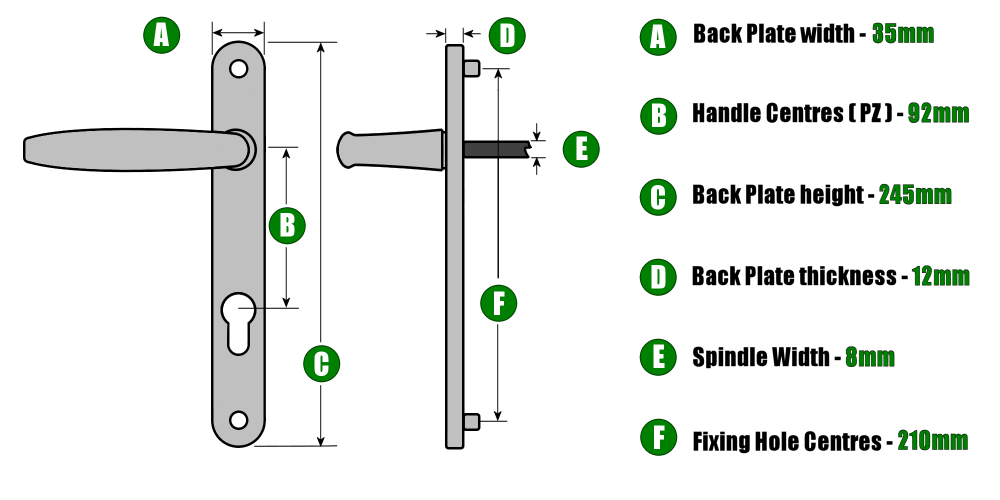 Short Fixing Centres 122mm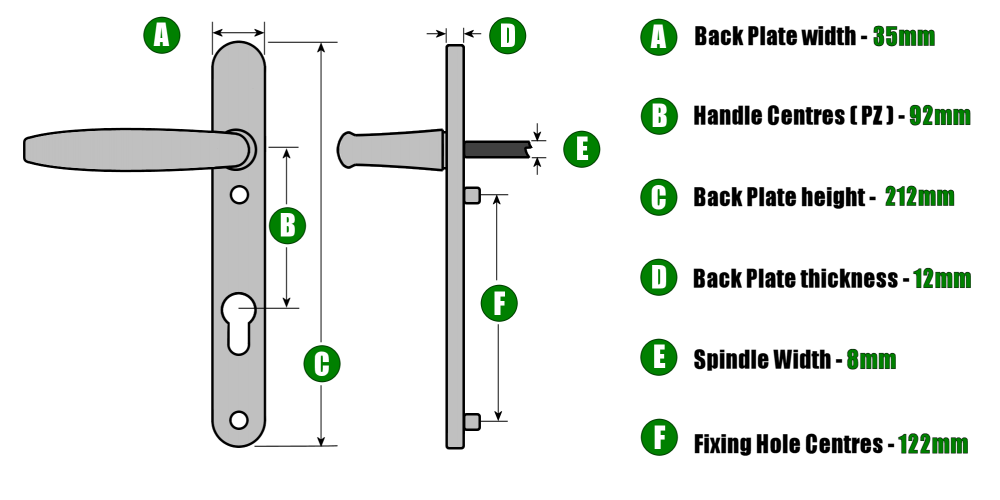 Handle Measuring Guide
Measurement 1
There are only two measurements which are required to ensure full working operation of your new uPVC door handle. The first one being what is known as the PZ measurement. This measurement is the distance from the centre of the key hole the to centre of the handle lever or spindle hole. This is measurement B on the technical diagram.

Measurement 2
The second measurement is the distance between the two fixing points which are the screw holes on the uPVC door handles backplate. This is measurement F on the technical diagram.

If the above two measurements match up then the door handle will fit and operate perfectly. All other measurements on the door handle are mainly aethetics and won't affect fitting or operation if they're different.


Product Reviews
Write Review
Excelent product and service.

Professional service and good qualitity products, wint hesitate to use the service again.