UPVC Double Glazing Hoppe Birmingham Sprung Door Handle Black
Product Description
Hoppe Birmingham Sprung Door Handle Pair
The Hoppe Birmingham sprung door handle is fully reversible, The handle has a simple and contemporary design with some sculpted detail, without being too elaborate or fussy. The back of the lever grip is sculptured to fit your hand very nicely and allows for a comfortable and ergonomic operation.
Hoppe Birmingham's lever and backplate are stainless steel for added strength. The Birmingham series are very similar to the Atlanta range, offering excellent value for money.
The Springs
The handle levers are sprung, solving the problem of a sagging door handle not returning to the horizontal position when not in use. This handle comes with one spring cassete to be used on the inside handle. Although there is only one spring cassette it will keep both internal and external levers sprung.
The spring cassette on this handle is made up of three springs instead of the traditional two springs. This gives it the ability to spring both sides of the handle with just one cassette and also gives it a longer lifespan.
Features & Info
Universal Handles - Designed to work for both left & right hand
Sprung Lever - Solves the problem of a saggy handle
Durable Backplate - Stainless steel chassis for maximum durability
92mm Centres - Common size for most door handles (See measuring guide)
Screw Hole Centres - 122mm or 215mm screw hole centres
Available Finishes - White, Black, Anodised Silver & Anodised Gold
Size
Informa
tion & Measuring
Guide
There are 2 different sizes of this handle. The only thing that changes is the screw hole centres to suit different doors. Please take a look at the diagrams to see which handle is going to fit your door.
Long Fixing Centres 215mm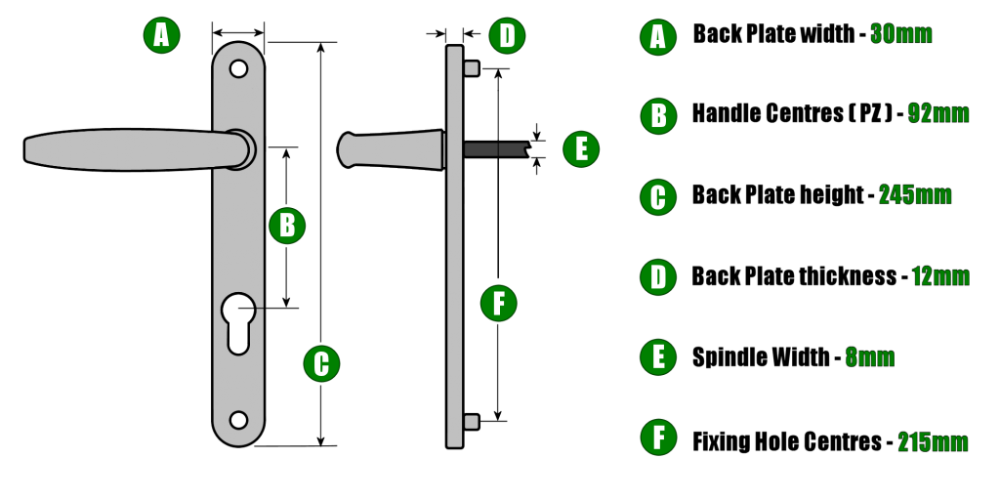 Short Fixing Centres 122mm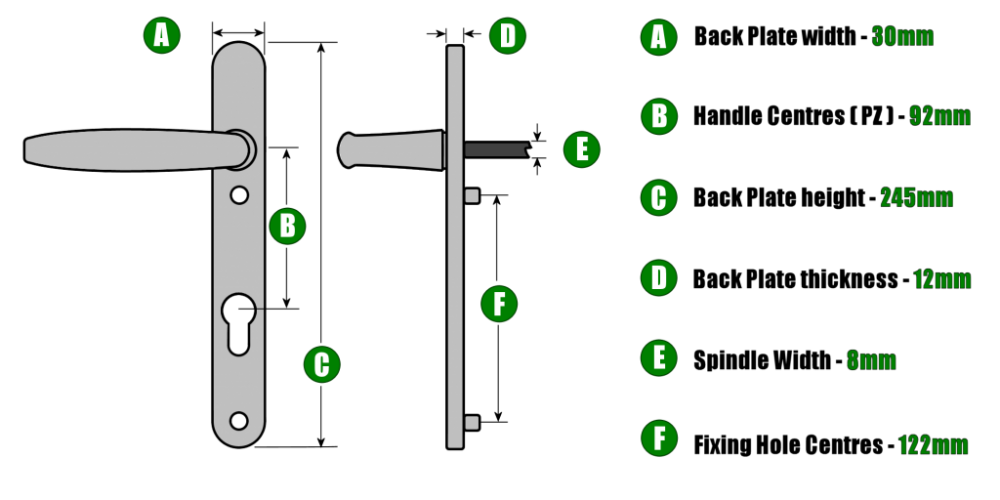 Handle Measuring Guide
Measurement 1
There are only two measurements which are required to ensure full working operation of your new uPVC door handle. The first one being what is known as the PZ measurement. This measurement is the distance from the centre of the key hole the to centre of the handle lever or spindle hole. This is measurement B on the technical diagram.

Measurement 2
The second measurement is the distance between the two fixing points which are the screw holes on the uPVC door handles backplate. This is measurement F on the technical diagram.

If the above two measurements match up then the door handle will fit and operate perfectly. All other measurements on the door handle are mainly aethetics and won't affect fitting or operation if they're different.


Product Reviews
Write Review
Sturdy and good quality

First time using this site. Goods arrived promptly and were very well packaged. One small item missing but quick email and item was dispatched and received. The finish and quality of the handles is excellent will definitely be using this company again.

Purchase of door handles for external door.

Excellent, speedy, no-fuss service; from ordering to delivery. the product was exactly as described. very good value for money.