UPVC Double Glazing Avocet Roto Door Handle Gold
Product Description
Avocet Roto Door Handle 92mm 162.5mm

The Avocet Roto 92pz door handle set comes with a high quality finish that is made to endure giving you years of use.
The levers and backplate are manufactured in cast aluminium. This unsprung lever handle set has been designed to be fully reversible (will fit left or right hung doors) with fixing lugs supplied on both back-plates for a more secure fit
Features & Info
Universal Handles - Designed to work for both left & right hand
Durable Handle - Cast aluminium gives a quality weight and feel
PZ Centres - 92mm
Screw Hole Centres - 162.5mm
Available Finishes - White, Gold, Black
Size
Informa
tion & Measuring
Guide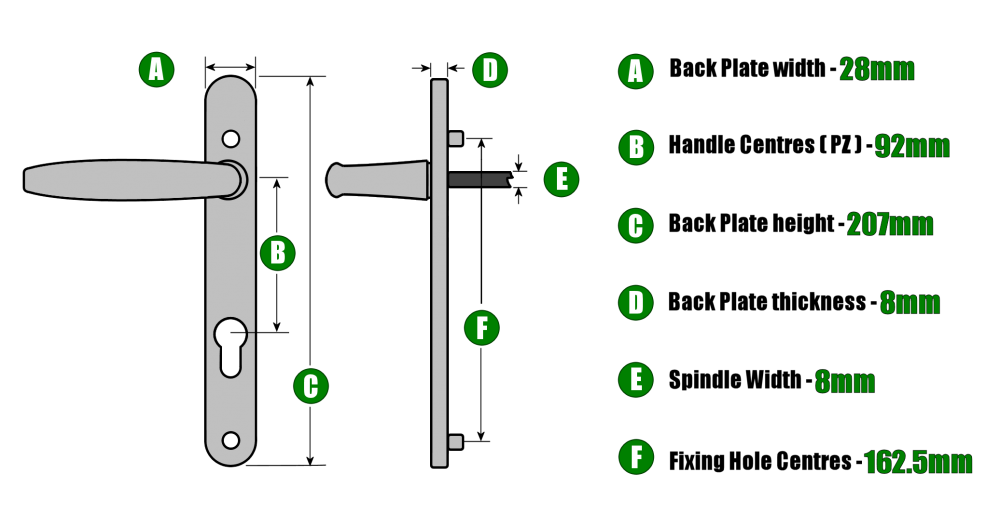 Handle Measuring Guide
Measurement 1
There are only two measurements which are required to ensure full working operation of your new uPVC door handle. The first one being what is known as the PZ measurement. This measurement is the distance from the centre of the key hole the to centre of the handle lever or spindle hole.

This is measurement B on the technical diagram.
Measurement 2
The second measurement is the distance between the two fixing points which are the screw holes on the uPVC door handles backplate.
This is measurement F on the technical diagram.
If the above two measurements match up then the door handle will fit and operate perfectly. All other measurements on the door handle are mainly aethetics and won't affect fitting or operation if they're different.
Product Reviews
Write Review
This product hasn't received any reviews yet. Be the first to review this product!