UPVC Door Handle Avocet Pioneer Sprung 92mm PZ Double Glazing Pair Set Patio PVC
Product Description
Avocet Pioneer Sprung Door Handle Pair
The Avocet Pioneer sprung door handle is fully reversible. The handle has a simple and contemporary design with some sculpted detail, without being too elaborate or fussy. The back of the lever grip is sculptured to fit your hand very nicely and allows for a comfortable and ergonomic operation.

The handle levers are sprung, solving the problem of a sagging door handle not returning to the horizontal position when not in use.

Features & Info
Universal Handles

- Designed to work for both left & right hand
Sprung Lever - Solves the problem of a saggy handle
92mm Centres - Common size for most door handles (See measuring guide)
Screw Hole Centres - 122mm or 215mm screw hole centres
Available Finishes - White, Chrome, Gold, Satin Silver and Black
Size
Informa
tion & Measuring
Guide
There are 2 different sizes of this handle. The only thing that changes is the screw hole centres to suit different doors. Please take a look at the diagrams to see which handle is going to fit your door.





Long Fixing Centres 215mm






Short Fixing Centres 122mm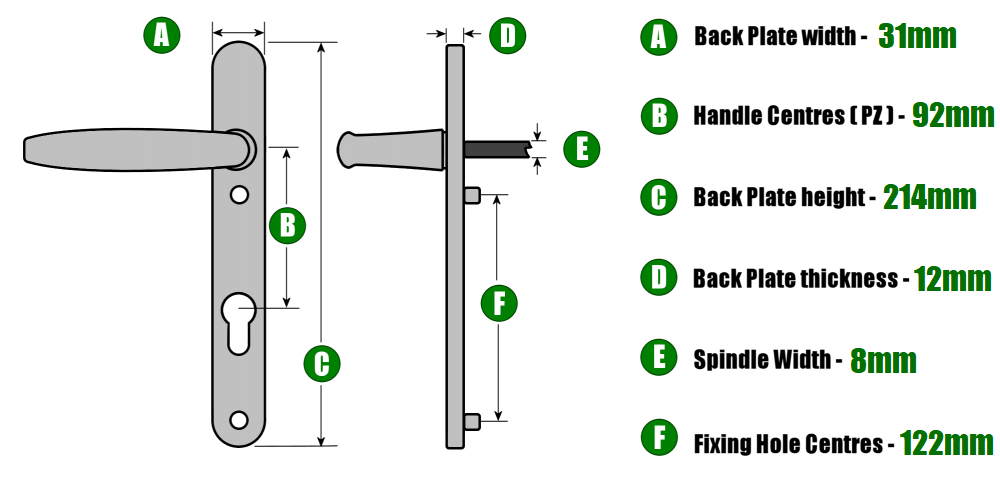 There are only two measurements which are required to ensure full working operation of your new uPVC door handle. The first one being what is known as the PZ measurement. This measurement is the distance from the centre of the key hole the to centre of the handle lever or spindle hole.
This is measurement B on the technical diagram.
Measurement 2
The second measurement is the distance between the two fixing points which are the screw holes on the uPVC door handles backplate. This is measurement F on the technical diagram.
If the above two measurements match up then the door handle will fit and operate perfectly. All other measurements on the door handle are mainly aesthetics and won't affect fitting or operation if they're different.
Product Reviews
Write Review
Patio door handles

Very good product and for a great price. Delivered within the 3 days that was stated. Very happy customer

Great service

Only a phone call for all the information I needed as I couldn't be quite sure on the product I wanted, great service great product knowledge and fast delivery.

Just the job

The new door handle arrived promptly. The screws that came with it were too long for my door so I use the old ones. Looks lovely and works a lot more smoothly than the handle it replaced.

great transaction!

Got exactly what I ordered, on time, good product. Full marks.

Great Product

Very pleased with product.

Customers also viewed